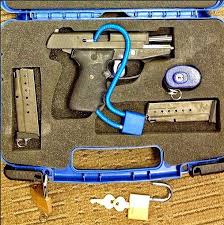 Every day last year, the Transportation Security Administration on average confiscated seven guns in airline passengers' carry-on bags.  But here's the thing: You'd think by now most everyone would know you can't bring firearms on board a commercial flight.  But every year the number of guns the TSA confiscates goes up, not down.
Ten years ago, 821 guns were taken away from passengers at airports; last year that number more than tripled to 2,653 guns.    I don't know if the TSA has gotten better at detecting weapons or if a whole lot of people are just clueless. 
If you're flying with a gun, it must be placed unloaded in a locked, hard-sided container as checked baggage only. And you must declare the firearm and/or ammunition to the airline when checking your bag at a ticket counter.
Keep in mind gun rules differ by state and country, so check local laws before traveling.  Don't under any circumstances try to cross the Canadian border with a firearm.  And don't think because you have a license to carry a gun in the US that you'll have the same rights in other countries.