Though I'm not from the state of Minnesota, I've lived here for more than a decade.  We didn't have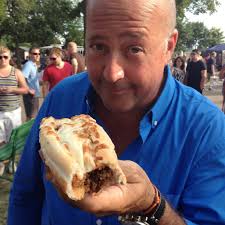 state fairs in Washington, DC, where I spent 40 years before moving.  But living here introduced me to the competitive nature of food vendors at the huge, annual Minnesota State Fair that recently concluded its run.
(The offerings are enough to even impress Minnesota resident Andrew Zimmern—pictured–the host of the Travel Channel series, "Bizarre Foods.")
Every year, a panel of judges chooses new food inventions for the fair.  Want some examples of this year's winners?  How about Spam sushi? Or candied bacon donut sliders?  That would be sliced, glazed donuts with thick, candied bacon, and a chocolate, red-wine ganache.
Fried offerings dominate, like deep-fried nachos—pepper jack cheese cubes coated with crushed tortilla chips and nacho cheese that is deep fried and then covered with more cheese, sour cream and served with jalapeños on the side.  Or cheese-flavored Spam that's been cubed, battered and deep fried with a side of ranch dressing.
It's a dieter's nightmare, this state fair. 
I'm partial to ice cream treats, such as a frozen banana with cinnamon and cream dipped in dark chocolate and served on a stick.  In fact, visit the Minnesota State Fair, and you'd be surprised the food that can be put on a stick.  Start getting in shape for 2017.