This past spring, New York City's health department issued new rules permitting dogs to accompany their owners at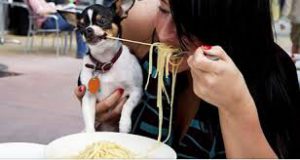 outdoor seating areas at restaurants.  In London, they're regular guests or even residents in pubs.
Should we dine with dogs?
The French, of course, are the world's leaders when it comes to bringing their dogs to the table.  Restaurants in France are usually accommodating as long as the dogs aren't huge.  Women with fluffy, little dogs in their purses or designer carrying cases are de regueur.  And that trend seems to be spreading to the United Kingdom and the United States.
It might surprise you to know that while the Food & Drug Administration recommends banning non-service dogs from eateries, the final decision is left to local or state authorities.  California permitted dogs at outdoor eating areas two years before New York City did, and there are some who argue that as long as dogs are not near food prep areas, they're no more of a threat to anyone's health than, well, than other people are. 
I don't have an informed opinion on this, but I do sense a relaxing of rules is on the American horizon.  I only ask that dining dogs mind their manners and tip generously.