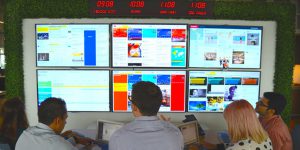 In the Washington, DC, suburb of Bethesda, MD, inside the worldwide headquarters of the Marriott Corporation, there's a control room that monitors the social media postings of guests at about 4,000 of its hotels around the world.  How the heck do they do that?  And is it creepy or is it the greatest idea since sliced bread?
The employees in that command center called M Live (pictured) use a system called "geo-fencing" that delivers to them about 300,000 social posts a day.  Let me repeat that: 300,000 social posts a day from Facebook, Twitter, Instagram, and other public sites.  They capture these posts using software that recognizes posts that geo-tag their hotels, and the staff inside M Live sometimes responds quickly to a post. 
If someone is celebrating a birthday or anniversary, they may well send a bottle of Champagne to their room.  If a guest has a gripe, the folks in M Live can alert the hotel to try to make things right quickly. 
It's sort of creepy that Marriott corporate can see all our social posts, but keep in mind, these ARE public posts.  They can't read your email or texts or public posts if they don't have anything to do with Marriott. 
What do you think?  Is this a step forward for guests?